You're probably being bombarded with Fathers Day advertisements on Facebook, Instagram and any other social app that you scroll through lately.
You're either tired of seeing them, or you're still not sure what to get dear old Dad for June 21st that will make his day.
While I don't know your Father personally, I'm going to give you a few good ideas to make this year great, despite everything going on.
Fathers Day Gift Ideas!
Home Depot or Lowe's?
We know both stores, but did you know they're marketed toward different types of people?
There is a reason why home owners and do-it-yourself people prefer to go to Lowe's (typically). It's because Lowe's has set their stores up to cater to the individual, the weekend warriors.
Lowe's designs their product layout, signage and entire marketing to make available everything for consumers.
Home Depot plays the other side of the big box stores, and really sets everything up to make it easier for contractors/commercial builders to get what they need.
If your dad is a professional, then a Home Depot gift card is ALWAYS a good option.
But, let's say he's a handy around the house, but he's no contractor… You're safe to go to Lowe's for a gift card, or even some tools you know he needs replacing. There are always great deals on new power tools from Lowe's (and Home Depot for that matter).
If you ever hear "these batteries don't last as long as they use to", and his tools look like the one pictured above, it's time to upgrade.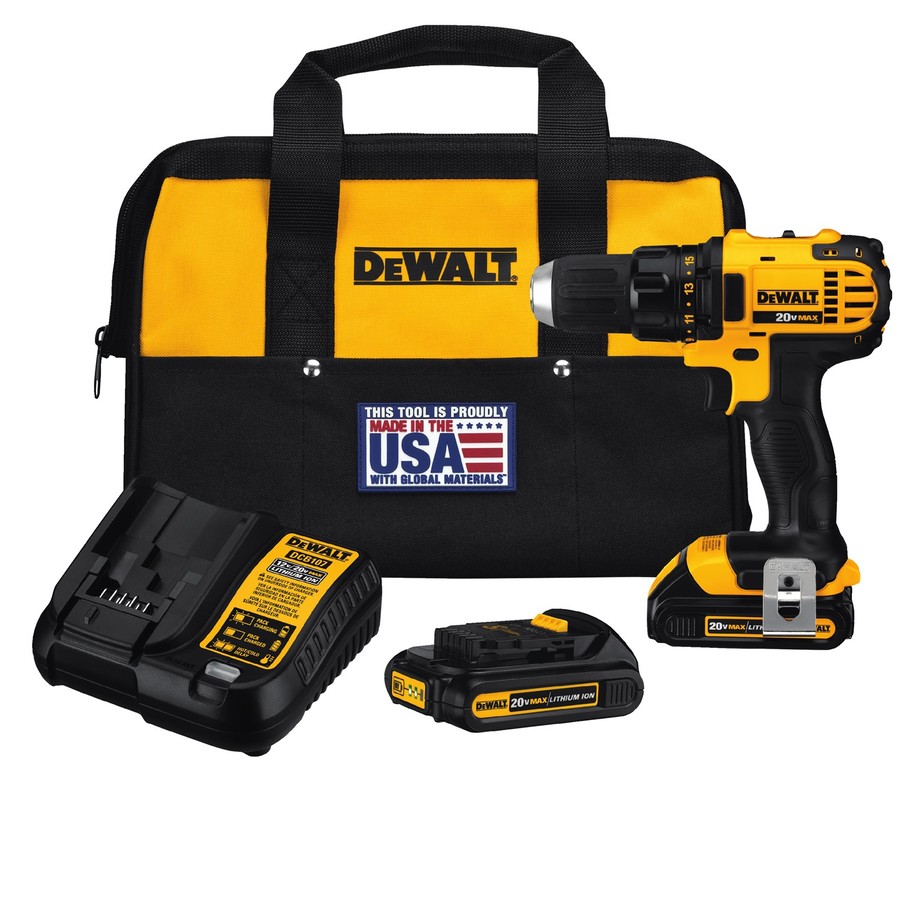 This is the new style of drill, with the 20V lithium ion battery system.
Combo kits are a good way to go with items like this. One that comes with a drill, impact driver, circular saw, and a reciprocating saw.
Make Something
In this busy day and age it's easier to go out and buy something (or order online and have it delivered) to gift to the people in our lives.
But nothing beats the feeling of making something by hand to gift away, plus the recipient (in this case, Fathers) will appreciate it even more.
Think of what your dad could use that's within your ability to construct.
Here are a few ideas:
Hat rack
Home Improvements – Anything need attention at his house that you could handle. Repair a deck, build a shed, etc.
Garden Planters
Bird Houses
Pegboard Tool Holder
Garage Work Bench
Spending 10 minutes at your folks house talking to them will let you know what needs fixing or what would be useful to have that they don't.
Custom Gifts
The final idea I'm going to put in your brain is a customized gift (it may be a bit too close to Father's Day for these to show up in time if you order online).
Going to a custom leather shop is an interesting experience when shopping for someone else. Usually you'll find leather workers at booths around the county fair, but they might have brick and mortar locations around you (a quick google search will reveal that).
If Dad is into wine or spirits, a tour of a local distillery or winery is an awesome idea as well! Especially if the tour comes with a tasting and includes a specialty glass to keep as a memory of the occasion.
Don't know what dad likes?
Knowing their interests is the most important part. If your relationship is not set up that way, or if your dad is too reserved to allow people to know exactly what he's thinking, then a gift card is probably your best way.
Get him a gift card to a place you know he likes, or a place he has never been for a reason to go outside of the normal routine.
Even just a visit or a phone call wishing him a happy Fathers Day 2020 is a gesture that will make the day better for all of the real dads out there. We just want to know if we're doing a good job or if we're awful parents.